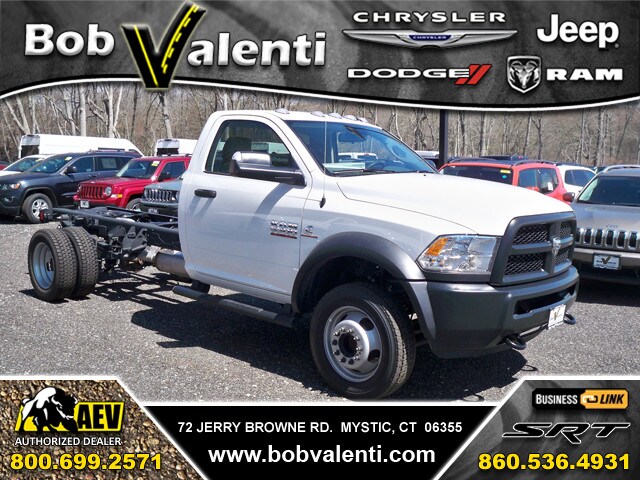 Valenti Ram Commercial | Mystic, Ct | Save Time - Buy Online at www.ValentiChryslerDodgeJeep.com
Valenti RAM is proud to be a certified FCA US LLC (Fiat Chrysler Automobiles) BusinessLink / RAM Commercial dealership serving customers in Mystic, Ct and the surrounding New London metro area. No matter if you are purchasing your first brand new car or a fleet of trucks for your business, our goal is to provide an unmatched inventory, competitive pricing and world class service before, during and after the purchase.
Please contact our Fleet and Commercial Department at 800-699-42571 to learn why Valenti CDJR, your Connecticut RAM COMMERCIAL dealership, is the premier Dodge Chrysler Jeep Ram dealership to shop for any fleet, small business, business retail, commercial, state, municipal or government vehicles in Connecticut. In addition, our Commercial Finance Center will assist with commercial leases, Lines of Credit (LOC), TRAC Leases and any other commercial maintenance / commercial service contract products.
Our customers drive from Groton, New London, Ledyard, Hartford, Old Saybrook, Westerly, Old Lyme, Lebanon, Madison, Waterford, Ashaway and providence to experience first-hand our outstanding customer service and unmatched selection of commercial vehicles. The dealership has very easy access off I-95, I-395 and Rt-2 from Rhode Island, Massachusetts, New Hamshire, Vermont, Maine or anywhere in the Boston Metro Area (RI, CT MA VT ME NH). Plus, if you can't make it to us - delivery can be arranged to frankly anywhere else in the United States for a nominal additional cost.
We partner with all NTEA - Certified Upfitters and Bailment Pools such as; Knapheide Truck Equipment ), Hartford Truck Equipment , Commercial Truck and Van Equipment  and Dealers Truck Equipment . This represents a small list of our bailment pool / upfitter partners. If there is someone not listed that you work with, please let us know and we can contact them on your behalf.
Our Fleet & Commercial Department also works with most fleet management companies / FMC (Enterprise Fleet Management, Donlen, LeasePlan, Wheels, ARI, Element, MotorLease, Sutton Leasing, Union Leasing and VANARAMA) for Courtesy Delivery / Courtesy Deliveries and Fleet Out of Stock Purchases. Please let us know how we can help with your immediate out of stock purchase needs.
We work with fleet customers that have a VIP, CAP, CPA or large fleet account number with GM, Chevrolet, GMC, Ford, Nissan or Mercedes Benz; please let us know how we can help you - we work directly with our OEM Fleet Departments on your behalf - Dare to compare our pricing and vehicle line up! The RAM ProMaster will stand up to any comparison to the Ford Transit, Chevrolet Express or Sprinter! The RAM ProMaster City is hands down a better alternative than the Ford Transit Connect or the Nissan NV 200 and with Chevrolet not producing the City Express any longer it makes the choice even easier. Our RAM 3500, 4500 and 5500 chassis cabs provide the ultimate platform for a custom upfit as compared to a Ford F-350, F-450 or F-550.
Valenti RAM Commercial has one of the largest inventories in the NORTHEAST and on the entire EAST COAST! We have work trucks, chassis cabs and cargo vans for sale!
If you or your business has been looking for a new Dodge Ram truck, work trucks, delivery vans, courier van, catering van, dump body, dump truck, landscape body, stake body, mobile office, pet grooming van, hot shot, expediter, flat bed, crane truck, service body, goose neck, mechanics body, utility bed, tool boxes, lighting (strobe, LED, light bar, wigwag) or other truck equipment, truck accessories (goose neck hitch or 5th wheel hitch) or custom upfit - look no longer. Our work trucks are work ready, in stock, ready for delivery, test drive or demo!
Check out our selection of RAM 1500, RAM 2500, RAM 3500, RAM 4500, RAM 5500, RAM ProMaster, RAM ProMaster City, RAM HD, RAM LD, RAM trucks, RAM work trucks, RAM cargo van, Ram cargo vans - we even have a HUGE selection of used cargo van options.
Most dealers only stock WHITE commercial vehicles - We have a full inventory of white, black, red, blue, silver, gray, granite and yellow cargo vans. Need a black ProMaster City, deep blue ProMaster City, bright red ProMaster City, deep red ProMaster City, silver ProMaster City, quartz grey ProMaster City or even a white ProMaster City? Or how about a broom yellow ProMaster, granite crystal ProMaster, true blue ProMaster, flame red ProMaster, bright silver ProMaster, black ProMaster or a white ProMaster? We have them IN STOCK!!!
Valenti Jeep Ram Dodge Chrysler, 72 Jerry Browne rd, Mystic, CT 06355
Call Eric Goodwin at 800-699-2571 today to reserve your new, used or pre-owned work vehicle.
Valenti RAM - Visit us at www.bobvalenti.com to save time and buy online
*** All prices are based on current rebates, vehicle availability and MAY NOT INCLUDE upfits or accessories added to the vehicle. Any applicable taxes, registration fees, title fees and / or administrative fees will be charged in addition to prices listed - Please contact the dealership for complete details.